The first MageUnconference took place on March 7th & 8th in Berlin. You'd like to know how it was? Read the FAQs!
What's an unconference?
Like an conference, but without any planned talks and with muuuch more and longer breaks. Someone Sander said to me in one of the breaks (sorry for not remembering, who it was I do SO remember it was Sander): "MageUnconference is a great combination of user group meeting and sessions".
It was such a relaxed athmosphere according to conferences where people just rush from talk to talk and hardly have time to chat during breaks. It was my first unconference and – omg – unconferences are awesome! It was also the very first MageUnconference btw!
How was the preparty?
We had a few beers, we had food, I met a lot of people I already knew and a lot of new ones and some even not known from twitter before!
According to Fabian we didn't manage to spend all the money that was sponsored for the preparty. Reminder for next time to all: Drink more beer or start earlier 😉
I also tried Ginger-Beer, I cannot recommend it.
The preparty took place in the Lindenbräu in the Sony-Center btw. After the last round of drinks we went for the After Pre-Party in the bar on the other side of the street of the Motel One.
And so it begins 🙂 #mageuc15 pic.twitter.com/9vrJ1VebQB

— Vinai (@VinaiKopp) March 6, 2015
#mageuc15 pic.twitter.com/wLx2wcj5Xf

— Damian Luszczymak (@daim2k5) March 6, 2015
Where did you stay?
After rumours on twitter, a lot of us booked their room in the Motel One at Ku'Damm (thanks Tobi for your tweet, i think everyone followed that). That was pretty cool as there was always someone around to go together to the Unconference and back.
I'm not sure which way was longer: The one from the elevator to my hotel room or the one to the toilets in the Abenteuerzentrum.
How did you get to the venue?
Driving with the bus from the Motel One! Despite my concerns beforehand it worked out better than I thought. My new favourite bus line in Berlin is now X10. Going with the bus, especially when going with a group of people, requires some attention from at least one of the group. Otherwise you will miss the station to get out. We had some near-misses.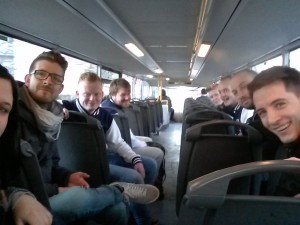 The Eichhörnchensteig is just right after the Waldmeisterstraße. The way to the Abenteuerzentrum was very idyllic.
Yes, this really is the path to #mageuc15. Lovelysunday pic.twitter.com/Et25fzJQzC

— Sascha Wohlgemuth (@Nomad73) March 8, 2015
How was the venue?
The Abenteuerzentrum lies inbetween a lot of trees and green. It's quite big and has a long way to the toilets (don't forget to pass by when you're in a session in the room "Bob"). We were lucky and the weather was very nice during MageUnconf which made it possible to sit outside, have breakfast outside and also sessions.
We had WIFI there which was reliable most of the time (depending on your location) and – for people like me without data plan in Germany – really essential to follow up all the tweets 🙂
What about the sessions?
Everyone had the chance to add topics he/she wanted to hear or talk about. The topics were collected on a wall, then introduced with a few words. A detailed picturized explanation about how that works can be found in Carmen's Blogpost.
The good thing is: There are 3 (or even 4) dev-tracks.
The bad thing is: There are 3 (or even 4) dev-tracks.
Which means: You have to decide which one of all those cool sessions to attend! What I really liked were the discussions that evolved out of the sessions and also the quality of the topics was very good!
There were sessions about: Module testing, Magento search, Burnout, Magento and Bootstrap, Scaling Magento (day 1), Recommender systems, design patterns: abstract factory, Mistake Driven Development, Vagrant, Magento Meetups, Code Usablity, CRM and a lot more!
I even got to do my "First Aid – Survival Guide for web developers" session together with Benno which was really cool.
Awesome semi-off-topic MageDevTalk: @rescueAnn "First Aid Magento Developers" 🙂 #lovinIt #mageuc15

— Rico Neitzel (@riconeitzel) March 8, 2015
Great talk from @rescueAnn and @bennolippert about #firstaid for #webdev and life saving #mageuc15

— Tobias Hartmann (@ToH_82) March 8, 2015
What did you eat aka How was the food?
There was lots of food! So much of it, that I cannot even list it all here. There was food all the time: apples, carrots, mandarines, cookies, cake, cereals, various kinds of break with various toppings. Lunch on saturday and sunday was vegan (the pumpkin soup on sunday was great btw!).
And there were a lot of softdrinks and 1337mate and Mischmasch and Coke and sparkling water (good quality sparking water from Vöslauer – Austrian company 😉 ) and much more!
How was the afterparty?
There was a fireshow which was performed by "Feuer und Poesie" – omg, that voice! And omg, that fireshow!
After party with fireshow, good music and delicious grilled meat on #mageuc15 really good choice @MageUnConf pic.twitter.com/QojpyXc3J9

— Tobias Hartmann (@ToH_82) March 7, 2015
After that we had delicious food from the barbecue.. For even more entertainment throughout the evening there was table tennis, dart and air hockey!
How many people attended the event?
I have no idea about the official number. Right before the event, 94 participants have been officially announced. Some didn't show up or arrived later but there were still a lot of Magento people 🙂
Most of them were from Germany and the Netherlands, but there were also participants from Switzerland (2), UK (1.5, yeah, David, you're the 0.5) and Austria (1). Hope I did not forget a country here.
There were a lot of cool Magento developers, but also project managers, sales & marketing guys/gals,… See #mageuc15 tweets for a list of people 🙂
One special thing I'd like to mention is that 3/4 of the MageStackDay-team met there 🙂
Magestackday Team @mannersd @rescueAnn @sandermangel and virtual @MariusStrajeru at #mageuc15. pic.twitter.com/N7wiQIMst9

— MageStackDay (@magestackday) March 7, 2015
Did you like it?
Yes! And I hope there will be a #mageuc16!
Special thanks to the amazing team organizing MageUnconference: Fabian Blechschmidt, Rico Neitzel, Tobias Klose, Carmen Bremen and Vinai Kopp!
More information?
www.mageunconference.org
#mageuc15 Tweets
More Blogposts?
Check out these cool Blogposts:
English:
German: