Update: Here's the new version of a Magento CE 2.1.3 database diagram.
Every now and then someone on the Internet asks for a Magento database diagram, like this question here on MagentoSE.
While there are a lot of cool resources out there (which are unfortunately a bit outdated), I created a new one.
This is the database diagram of a fresh CE 1.9.2.2 installation.
Some statistics (because I love statistics):
Magento CE 1.9.2.2 consists of 333 tables
19 tables start with core_*
47 tables start with sales_*
84 tables start with catalog_*
How to read it & find stuff:
Catalog is on the very left (big yellow group)
Sales is on the very right (big blue group)
EAV and Core stuff is in the middle (the brown & orange groups)
Customer tables are in the middle/bottom (big green group)
The rest (salesrules, logs, reports, newsletter, tags, poll, etc.) is on the bottom
If you like it, go and upvote my answer on MagentoSE 😉
Have fun with it!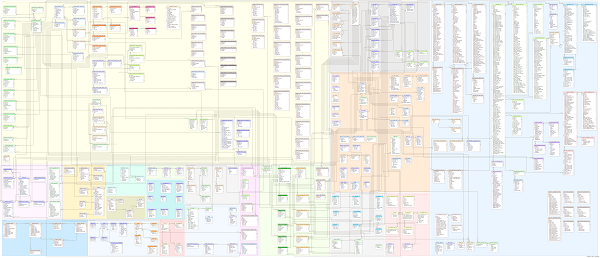 Link: Magento CE 1.9.2.2 database diagram
Feedback on the diagram is welcome. Especially on some lonely tables that I moved to the best of my knowledge and belief into one of the groups.